William Bain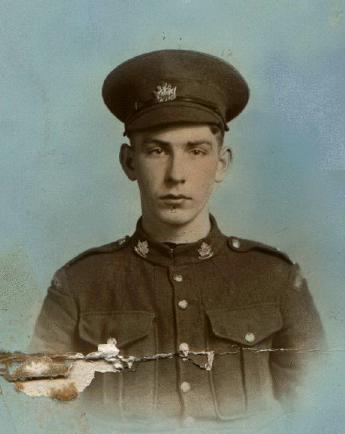 Photo courtesy of Irene Doyle's WW1 & WW2 website
Apr 13, 1898

Born at Flatlands New Brunswick, Canada

to John and Isabella (nee Irvine) Bain

Aug 29, 1915

Attested at Sussex New Brunswick into the 55th Battalion

Ø Number 445527

Ø Next of kin given as John Bain (father) of Flatlands New Brunswick

Ø Occupation given as "Labourer"

Ø No previous military service given

Ø Religion given as "Presbyterian"

Ø Assigned to "A" Company

On Attestation, he lied about his age, giving his birth year as 1897

Oct 30, 1915

Embarked the SS Corsican at Montreal

Nov 1, 1915

Pay assignment of $20 per month took effect to Mrs John Irvine of Flatlands New Brunswick

Nov 9, 1915

Disembarked the SS Corsican in England

Apr 7, 1916

Transferred to 39th Battalion and attached to Brigade Signal Base at West Sandling Camp

Jan 4, 1917

SOS (Struck Off Strength) 39th Battalion and TOS (Taken On Strength) 6th Reserve Battalion at West Sandling Camp

Jan 15, 1917

Awarded 14 days Field Punishment No 2 for "Drunk"

Mar 6, 1917

SOS 6th Reserve Battalion and TOS 21st Battalion
| | |
| --- | --- |
| Mar 31, 1917 | Left CBD (Canadian Base Details) for 2nd Canadian Entrenching Battalion |
| Apr 2, 1917 | Arrived at 2nd Canadian Entrenching Battalion |
| Apr 4, 1917 | Joined 21st Battalion in the field |
| May 8, 1917 | Killed in Action and initially buried in the Vimy Communal Cemetery. Following the war, his body was exhumed and reburied in the Point du Jour Miltary Cemetery at Athies France |
| Jul 17, 1917 | Burial Report made out |
| Dec 13, 1920 | Death Scroll sent to father, John Bain, at Flatlands New Brunswick |
| Jan 4, 1922 | Death Plaque sent to father, John Bain, at Flatlands New Brunswick |
Note:
The British War Medal and Victory Medal were sent to his father, John Bain of Flatlands NB, but no date is recorded in the file for this.
No Cross of Sacrifice was sent to the family as he was single, and his mother was not alive.
What follows is a quote from page 78 of the Diary of Sandy Bain, a signaler from the 21st Battalion:
"We had to wear our gas masks until about 4 a.m, when bombardment ceased. Every half hour or so I would simply have to take mine off and wipe my mouth and chin, holding my breath all the time. This would cause my eyes to water every time I did so.
Some of the men suffered very much in our dugout and in the Company dugouts, and also among the men in the trenches there were quite a few gas casualties. One signaller died as they were carrying him out to the dressing station - a former 55th Battalion man, Billy Bain from Flatlands, N.B. He was very fine boy and I was sorry to hear of his death.
After the shelling stopped, I was able to get some sleep"
2008
During the Remembrance Day ceremonies in 2008, Veteran's Affairs Canada conducted a vigil each night for the week leading up to November 11. This vigil consisted of projecting the names of every Canadian soldier who is listed with the Commonwealth War Graves Commission on various buildings and monuments across Canada, and in London England. The photo below shows William Bain's name being projected on the outside wall of Canada House in London England.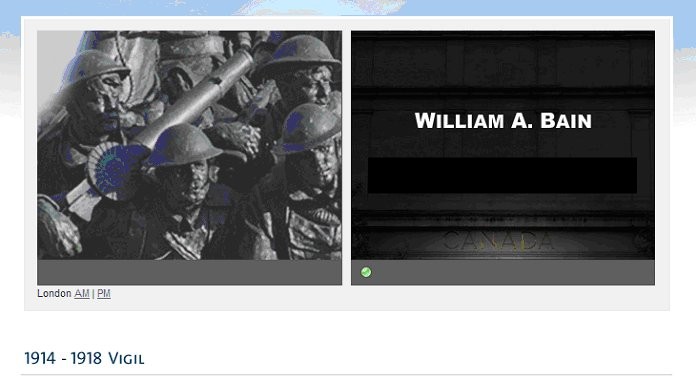 2010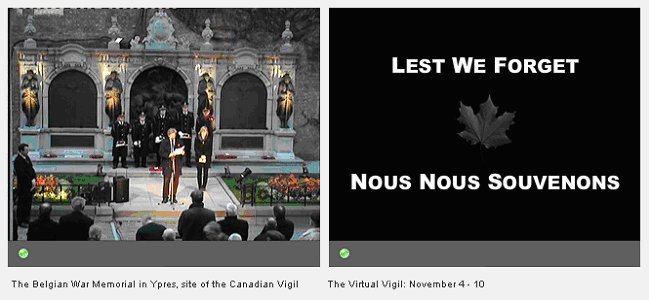 For the 7 nights leading up to November 11, 2010, the names of all Canadian soldiers were projected onto the Belgian War Memorial in Ypres. At the same time, the same names were being broadcast via the internet to schools across Belgium and Canada. The image above shows the opening ceremonies at the Belgian War Memorial on November 4, 2010.
Below on the left is the name of William Bain being projected on that wall. Below right shows the name being broadcast to the schools. Each name appeared for 25 seconds and each night 9,700 names were shown.