Pte Blizzard was wounded when a German artillery 5.9" shell landed in an ammunition dump at the same time that his Company was moving forward to enter the front line. He was given first aid and moved to the No 47 CCS (Casualty Clearing Station) for treatment where he died shrapnel wounds and a compound fracture to his left leg.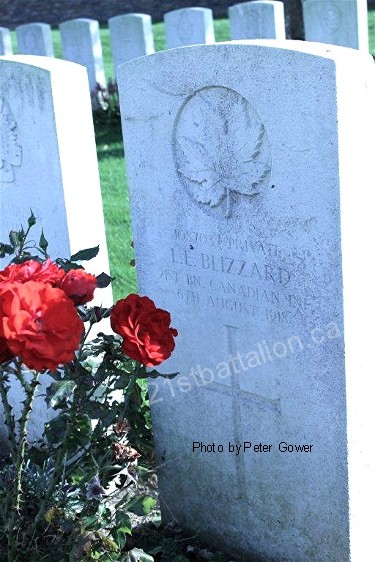 Crouy British Cemetery
Crouy sur Somme, France
Following the war the British War Medal and Victory Medals were sent to his adoptive father, Earl Bonter, at Box 1094, Trenton, Ontario. It is interesting to note that in Pte Blizzard's will, he left his estate to Earl Bonter and described him as "a friend", and no mention of him being his adoptive father.
The Plaque (Dead Man's Penny) and Scroll were sent to his brother, Charles W. Blizzard, at 176 Normandy Rd., Handsworth, Birmingham, England
There was no Memorial Cross issued as his mother was deceased and he was unmarried