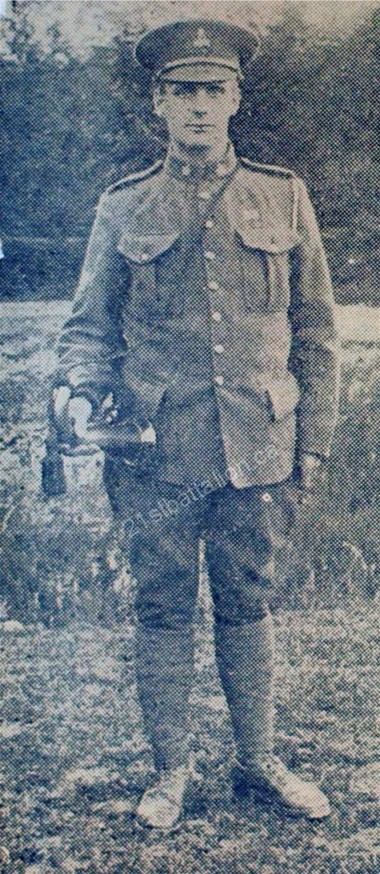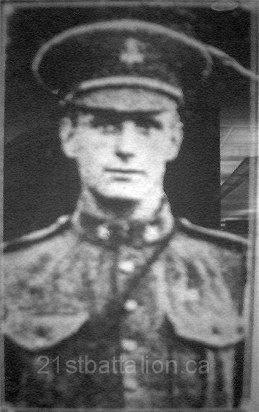 59145
kia March 18, 1916
Frederick Alfred Carter was born in England 2 October 1889, the son of Harry Edward and Anne Elizabeth (nee Loyd). Before the war he worked as a hospital orderly in Kingston, served since 1912 in the militia artillery unit based in Gananoque (the 8th Field Battery), and in 1913 married Ada Ellen Eastwell, daughter of George and Caroline (nee Knowelden), London, England. Frederick and Ada had two daughters.
He enlisted 16 February 1915 at age 25 and served in the Canadian infantry, 21st Battalion (Eastern Ontario Regiment). Private Carter arrived in France in September 1915 and was killed when there were no major battles involving Canadians. Since late 1914 Germans had occupied almost all the hills that surrounded the important Belgian city of Ypres allowing them to observe the movement of Allied troops in the small salient that jutted into their lines. For the next three years German gunners and snipers on these hills daily inflicted casualties on vulnerable Allied troops. Major Russel Britton of Gananoque wrote in a letter that appeared in The Gananoque Reporter in March 1915: "The country here is as flat as a pancake, and for that reason very hard to fight with artillery as it is so hard to observe your fire, and just at present the Germans have the advantage as they are on the same old hill - the only one there is for miles."
When infantrymen were not in the front lines they worked on defensive positions in the rear area and when in the front lines rebuilt trenches and erected barbed wire entanglements in no-man's land between trenches. Private Carter's records state he was shot in the chest while rebuilding forward trenches east of Ypres. The 21st Battalion war diary recorded his death with the simple statement: "Casualties resulted from working parties: 5 killed, 4 wounded."
During first three months of 1916 when Canadians were in a 'quiet sector' around Ypres and involved in no major fighting, their battle casualties included 546 killed and 1,543 wounded. There were another 667 non-combat casualties caused by accidents of which 20 were fatal. The month Private Carter was killed, 764 Canadians were killed or wounded. British statistics show that even when no battles were fought an average about 1,000 thousand British and Commonwealth soldiers were killed or wounded every day on the Western Front. This crudely was termed 'normal wastage'. Battles, however, claimed thousands more lives each day. The Battle of the Somme began early on 1 July 1916. By the end of the day 20,870 British soldiers had been killed and another 35,500 wounded.
Private Carter is commemorated on Page 64 of the First World War Book of Remembrance and is buried in RIDGE WOOD military cemetery, south of Ypres. He is one of six Gananoque men buried in cemeteries near Ypres. The names of six Gananoque men whose bodies were never recovered or never identified are engraved on the MENIN GATE MEMORIAL.
Dedicated in honour of his sacrifice to his country: Bill Beswetherick