Jun 28, 1893

Born to Wyman A and Elizabeth (nee Watt) Chamberlain in Pembroke, Ontario.

Nov 6, 1914

Attested into the 21st Battalion in Kingston, Ontario

Ø Number 59149 (temporary number 406)

Ø Next of kin given as Wyman Allan Chamberlain, brother, Pembroke, Ontario

o There is a note in the file to also notify his sister, Nellie Chamberlain, Ottawa, Ontario

Ø Previous occupation given as Clerk

Ø No previous military experience given

Ø Religion given as Wesleyan

Ø Assigned to "D" Company

o This was later reorganized into "B" Company

Both of his parents had died, and he gave his brother, Wyman, as his next of kin. Wyman enlisted in the 87th Battalion, and was killed in action November 18, 1916.

Private Chamberlain played on a battalion hockey team against the Hockey Hall of Fame member, one eyed Frank McGee

May 6, 1915

Embarked the RMS Metagama in Montreal, Quebec

May 15, 1915

Disembarked in Devonport, England and the battalion proceeded to the West Sandling Camp near Hythe, Kent.

May 20, 1915

Appointed to the provisional rank of Lance Corporal with pay.

Jul 1, 1915

Confirmed in the rank of L/Cpl.

Sep 14, 1915

Embarked the St. Seiriol in Folkestone

Sep 15, 1915

Disembarked in Boulogne, France and proceeded to St. Omer.

Jan 9, 1916

Promoted to the rank of Corporal to replace Cpl G. Thomas, 59968 who had been wounded and invalided to England.

May 15, 1916

Granted 10 days leave of absence.

May 25, 1916

Rejoined the battalion from leave.

Jun 22, 1916

Promoted to the rank of Sergeant to replace Sgt. C. Patten, 59777, who had been invalided to England.

Sep 16, 1916

During the fighting at Courcelette while the battalion was holding the sugar refinery, Sgt Chamberlain received shrapnel wounds to his back that paralyzed the lower portion of his body. A second artillery shell buried him, but he was dug out by his comrades, however he died very shortly after. He was buried near where he died, but when it came time to rebury him in a proper cemetery, his remains could not be located. Because of this, he is commemorated on the Canadian National Vimy Memorial, Vimy Ridge, France.

His brother, Wyman, also without a known grave, is honoured on the Vimy Memorial as well.

Following the war, the 1914-15 Star, British War Medal, Victory Medal, Plaque (Dead Man's Penny) and Scroll were sent to his brother, Leonard Chamberlain, c/o William Brown, Box 90, Pembroke, Ontario.

There was no Memorial Cross issued.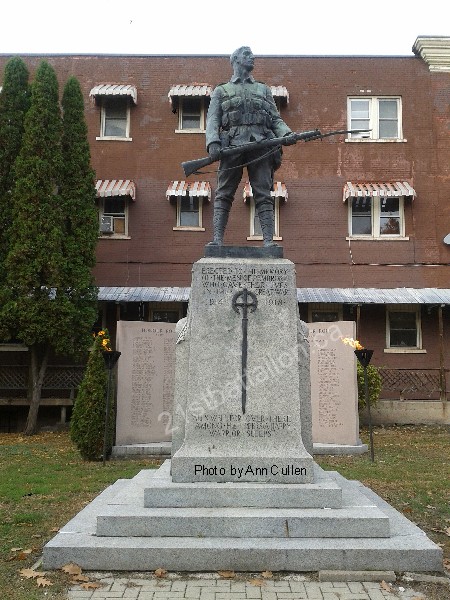 In addition to the Vimy Memorial, both William and his brother, Wyman, are honoured on the Pembroke, Ontario war memorial.