Toronto Daily Star July 25, 1940
COCKERAM, DSO, NEARLY VC, FOR BATTLEFIELD BRAVERY
Wiped Out Gun Crew One Day—In Hand-to Hand Fight the Next
RECRUITS THE IRISH
By GORDON SINCLAIR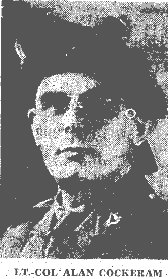 Of the 245 seats in Canada's House of Commons, one is held by a woman, one by an officer serving overseas, and eight by officers who are mobilized but not yet abroad.
Of these nine statesmen in khaki, only one commands a battalion, and that one not only commands one battalion but is second in command of another.
Before this month ends, this colonel will resign his command and take major's rank and pay as second in command, because the unit where he is second is on the active list and the other is not.
Step up then folks and meet Lt-Col Alan Cockeram, DSO, who holds two of the biggest military jobs in Toronto……and one in Ottawa.
The colonel is at present commander of the second battalion, Toronto Irish Regiment, and second in command of the Toronto Irish Regiment in the Canadian Active Service Force…..and when people call him "cocky" it's not altogether a nickname. It might be a pretty good description.
In civil life Alan Cockeram is a mine executive and his growling laugh has been heard up and down the north woods from the Arctic circle to here and back again.
Yesterday we had to confess that the commander of the Irish Regiment, Lieut-Col HB Duthie, was not Irish, but a Scotch Canadian. Now it's horrible to repeat that the second in command is English; straight English, with no Irish mingled in at all. D'Arcy Hinds must be blushing.
Alan Cockeram was born in Topsham Devonshire, came to Canada in 1913 and immediately joined the Canadian Bank of Commerce at Bloor and Yonge. The next year…the fateful year of 1914…Cockeram was transferred to Brockville and there he got a commission in the 41st Brockville Rifles, a unit still in existence but not yet mobilized.
Enlisted as a Private
That commission came along in midsummer, a few weeks before the outbreak of war, and just as soon as war did come, Cockeram chucked it up and enlisted in the 21st battalion (Kingston), as a private.
Cockeram quit the commission because that was the quickest way of getting overseas and he did get overseas in May 1915. Four months later the battalion was ordered to France and through the ranks came the colonel to order that Cockeram stay behind and study for a commission.
He refused. Maybe that was mutiny or treason or what not, but anyhow Cockeram said he didn't want a commission because that meant delay in getting into the big show and delay was the one thing he couldn't tolerate.
"If I am alive six months from now I'll apply for leave to study for a commission," he said by way of compromise.
He actually waited seven months, was just as lively as he is now…if not more so… and went back for that commission in April '15. By the end of August Second Lieutenant Alan Cockeram was back in France with the First Devonshire Regiment, but the 21st didn't like that a little bit. They complained that one their bright young men had been hijacked and it was time he came back home.
"But Cockeram is an Englishman" somebody said. "so what…we saw him first." Cockeram returned to Canada's 21st Battalion in February 1917, and at both Vimy Ridge and Hill 70 things began to pop for both himself and the outfit.
How He Won the DSO
If this war has proved nothing else, it has established that the best you can get is the worst of it when asking an officer how won his medals. It's known that Cockeram was recommended for the Victoria Cross, but wound up with the Distinguished Service Order, and the citation for that order follows:
"To Lieut Alan Cockeram, 21st Battalion, Canadian Expeditionary Force, for conspicuous gallantry and devotion to duty in leading his platoon in an attack. On reaching his objective he came under heavy fire from a machine gun. Taking two men with him, he immediately rushed forward, personally killed the gun crew and then noticing that a booby trap was attached to the gun, he threw it backwards, on which the trap exploded (a booby trap is a bomb left to catch the unwary). During this operation Cockeram was wounded but refused to leave his platoon. Later in the day while on reconnaissance with two non commissioned officers, he met a party of the enemy, all of whom were killed.
On the following morning this officer led his platoon in the open against a strong enemy counter-attack and after hand-to-hand fighting in which he personally accounted for several of the enemy, he was severely wounded. (A bomb hit him in the face). The attack was repulsed. Cockeram's fearlessness throughout was most marked."
So that's the way it all reads in the King's records…but it would be fun to hear the colonel say it in his won way.
Later during the war Cockeram was wounded again and mentioned in dispatches. He was demobilized as captain, and company commander in May 1919, and except for acting as staff captain to the infantry brigade headed by Col HJ Dawson of Kingston, Cockeram had no further military connection until 1929.
The Irish Regiment claimed him at that tiem as major and company commander. This fighting regiment, war born and with the swank motto in Garlic "We clear the way," had been dormant 10 years.
Reverts in Ranks Again
When it was reorganized, Cockeram went in immediately, but was about to retire in 1936 when the commander, Lieut-Col WH Stanley, MC, was killed by a Toronto street car. Cockeram took over the regiment with the rank of lieutenant-colonel. He was succeeded by the present commander, Lieut-Col Duthie in 1938, and put in charge of the reserve battalion.
As soon as war came along Col Cockeram hollered to get in…but fast. He reverted in rank to major to become second in command and when the order recently came to raise a new battalion, Cockeram was the man to do it.
Already he has his officer personnel pretty well lined up and more than 200 men have been signed on. In connection with this battalion, Cockeram runs the show…and we mean runs it. He has the appointments under his personal control…all of them. Among other things he suggested Lieut-Col LH Nelles, DSO, to succeed him in command and this change will be effected Monday.
We asked the colonel about ambition. What did he aim to do with this battalion? What did he aim to do about himself?
"For the battalion I want…and I'll get…a unit any man can be proud of. I want to recruit, train and equip this unit in kilts and then turn it over, intact and in good spirit, to my successor. Then I want to go back to the original battalion."
A tall order but the odds are 20 to one it will be accomplished by Thanksgiving day, or sooner.