The following is from the Windsor Star, May 7, 1976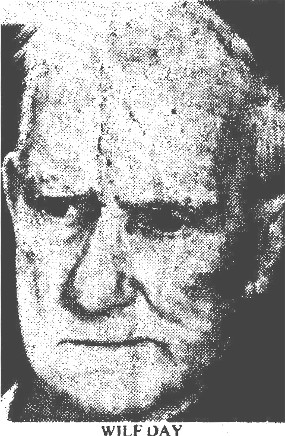 For Wilf Day the memory lingers
There are long pauses while Wilf Day lies staring at the antiseptic sterility of the hospital room.
The dates are a bit muddled, the history incomplete.
At 87, Wilf Day is hard of hearing and his memory doesn't always serve him.
But there are some things that are etched permanently in his mind, early years in his life that he will always remember.
The First World War. Cold facts in a history text or tales passed down through generations for most of us, stories of biplanes and trench warfare.
Wilf Day was with the 21st Battalion. He speaks haltingly about the war, but his voice is strong and the words are cloaked with modesty.
He mentions fighting at Vimy Ridge, the Somme, Ypres.
"We had our ups and downs," Wilf says, smiling faintly as though no one but those who were there can really understand.
"I was wounded at Vimy Ridge."
Wilf was a young man of 28 when he fought at Vimy, the battle in April, 1917 that killed more than 3,000 Canadians.
It is a slow process for him to recall those years, but what he tells is thick with realism.
"On our way to the Somme, we stopped at a farm for three or four days, "Wilf says, his eyes brightening.
"The lady who owned the property was a bit upset. She told us that every time soldiers occupied the farm her hens didn't lay any eggs." It is a good anecdote, and Wilf chuckles as he relates it.
"We had been raiding the nests and filling our packs with fresh eggs. They were hard to come by."
That kind of larceny is forgivable.
Wilf joined the army in 1915, three years after he came to Canada with his wife Laura. He was born in 1888 in Bridgewater, England, and learned carpentry as a youngster.
Wilf settled in Preston, where his first son Stanley was born, and when the war started he signed up and took his wife and son back to England with him in 1915.
After the war he returned to Canada and took an 18 month training course in Toronto to become a shop teacher. Sometime around the early part of 1920, Wilf settled in Windsor and signed up with the Windsor Board of Education.
He also joined the Great War Veterans Association, the group that preceded the Royal Canadian Legion.
"The boys had nothing when we came back," Wilf says, recalling the absence of camaraderie found in the trenches that helped unite the soldiers and make war thousands of miles from home more bearable.
"We asked ourselves 'why not have something' when we came back. That's how the legion started. We got together and had something to share."
Wilf was a charter member of Branch 12, the city's oldest legion group.
He served on the executive of the branch from its first year and was chairman of Poppy Day for many years.
Wilf fitted in the legion work with a career in Windsor's schools.
From 1920 to 1925 he taught shop and manual training at Walkerville Collegiate. Board records are sparse, but they show that in 1932, Wilf moved to John Campbell School for five years and then taught at the Harry E Guppy School (now the High School of Commerce) from 1937 on.
He retired in 1955 but remained on staff as a supply teacher.
Times have caught up with Wilf Day. He says he doesn't do much active work with the legion any more except on Poppy Day. And he remembers times when a dollar was worth more than a few cups of coffee.
"Can you imagine," he says, incredulously, "when I first started teaching school they paid me $1.10 a day."
Not much, really, for men who fought a cause today's youth takes for granted. But those men, like Wilf Day, were humble and didn't ask for more.
They can look around today and be proud.