Apr 12, 1892

Born in Athelstaneford, Scotland to William and Marion Garlick.

Family research indicates that he immigrated to Canada about 1910 and settled in the community of Dundalk, Ontario, north-west of Toronto.

Thank you to Kelvin Dakin for providing family information and photos.

Nov 5, 1914

Attested into the 21st Battalion in Kingston, Ontario

Ø Number 59352 (temporary number 635)

Ø Next of kin given as William Garlick, father, 6 Gower St., Ipswitch, England

Ø Previous occupation given as Farmer

Ø No previous military experience given

Ø Religion given as Presbyterian

Ø Assigned to "F" Company

o This was later reorganized into "C" Company

Dec 31, 1914

Forfeited 1 day's pay for being absent.

May 6, 1915

Embarked the RMS Metagama in Montreal, Quebec

May 15, 1915

Disembarked in Devonport, England and proceeded to the West Sandling Camp, near Hythe, Kent.

Jul 2, 1915

While training for the front, Private Garlick received a bayonet wound to his chest and was admitted to the Shorncliffe Bevan Military Hospital, Sandgate.

Jul 14, 1915

Transferred to the Monks Horton Convalescent Hospital.

Jul 22, 1915

Discharged to duty from hospital.

Jul 30, 1915

Reported to be AWL (Absent Without Leave).

Aug 3, 1915

Reported for duty and forfeited 5 day's pay.

Sep 14, 1915

Embarked the St. Seiriol in Folkestone

Sep 15, 1915

Disembarked in Boulogne, France and proceeded to St. Omer.

Dec 28, 1915

Admitted to No. 5 CFA (Canadian Field Ambulance) in Godewaersvelde, diagnosed with influenza.

Dec 29, 1915

Transferred to the 2nd DRS (Division Rest Station), also at the No. 5 CFA.

Jan 4, 1916

Discharged to duty from No. 5 CFA.

May 19, 1916

Appointed to the rank of Lance Corporal with pay to replace L/Cpl W. Crerar, 59266 MM, who had been promoted.

May 22, 1916

Granted 9 days leave.

May 31, 1916

Rejoined the battalion from leave.

Sep 1, 1916

Reverted to the rank of Private at his own request.

Sep 15, 1916

During the heavy fighting on the Somme when the 21st Battalion had the task of attacking a German strong point in a Sugar Factory, Private Garlick was killed in action. He was buried in the Courcelette British Cemetery, Somme, France. The exact location of his grave in that cemetery could not be determined when it came time to install permanent grave markers and as a result, his headstone has the inscription "Believed to be buried in this cemetery."


Above you can see by the top arrow, the jumping off point for the 21st Battalion when it attacked the Sugar Factory.


Following the war the 1914-15 Star, British War Medal, Victory Medal, Plaque (Dead Man's Penny) and Scroll were sent to his father, William Garlick, 6 Gower St., Ipswich, England.

The Memorial Cross was sent to his mother, Mrs. Marion Garlick, at the same address.
2010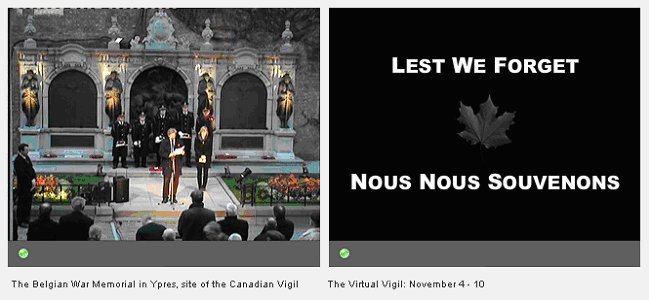 For the 7 nights leading up to November 11, 2010, the names of all Canadian soldiers killed during the war were projected onto the Belgian War Memorial in Ypres. At the same time, the same names were being broadcast via the internet to schools across Belgium and Canada. The image above shows the opening ceremonies at the Belgian War Memorial on November 4, 2010.
Below on the left is the name of William Garlick being projected on that wall. Below right shows the name being broadcast to the schools. Each name appeared for 25 seconds and each night 9,700 names were shown.