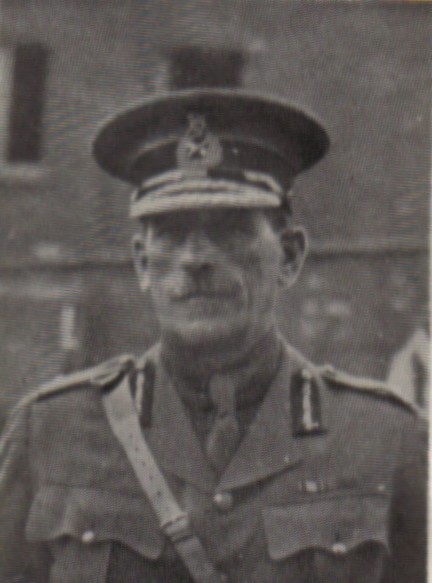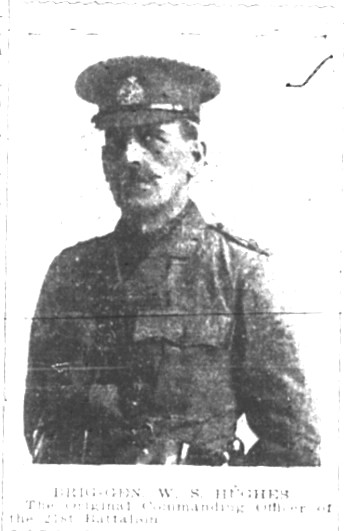 Commanded the Battalion from Oct 20 1914 to May 23, 1916
(The following is taken from the 21st Battalion Historical Calendar)
The first Commanding Officer was in pre-war days associated with the 14th Regiment (Princess of Wales' Own Rifles), of Kingston, Ontario. At the outbreak of war he was commanding the unit. General (then Lieut.-Colonel) Hughes was appointed to mobilize and command the 21st Canadian Battalion in November, 1914, and continued in such capacity until he assumed command of the 10th Canadian Infantry Brigade, in France, on the 14th of July, 1916, and was promoted to the rank of Brigadier-General. He saw service in the North-West Rebellion, wearing the riband of that campaign. He also completed the period for the Long Service Decoration in the Canadian Active Militia. Previous to the war he was Inspector of Penitentiaries.
The name of General W. St. Pierre Hughes, the moving spirit in the Battalion for so many months, who directed and "fathered" the unit from the days of its infancy, and whose character as a man and example as on officer became engrained into its life, will ever be associated with its history.
(the following is taken from the Kingston Daily Standard newspaper, December 19, 1914)
Lt-Col St. Pierre Hughes is a brother of the Minister of Militia, and has worn the uniform of a soldier for nearly forty years, serving in the 45th, 46th, 90th, 79th and the 14th regiments. Col Hughes organized the St Andrew's Cadets, and drilled the corps for over two years. He served with the 90th Regiment in the Northwest Rebellion in 1885 for which he wears the medal and clasp. He was present at the battles of Fish Creek, Batoche, relief to Prince Albert and Battleford and was a member of the expedition sent after the famous Indian chief, Big Bear. He has been one of the best rifle shots in Canada for the past 25 years. Col Hughes was selected with Geo H Bradbury, MP for Selkirk, to cut the cable at Batoche and both men succeeded in their hazardous task.
When the 14th Regiment was changed from six to eight companies, the two extra companies were organized and drilled by Col Hughes, and the two new companies were turned over complete in men and qualified officers to the regiment.

The colonel has been active all his life in athletics, playing for thirteen years on championship lacrosse, and he was a member of the famous Cornwall team during the time that it held the undefeated championship for nine consecutive years.

He accompanied the 14th Regiment to the Tercentenary at Quebec, and three years ago played a very prominent and creditable part in the tactical contest held in this district, being the commanding officer of the right half of the forces engaged in the scheme.

For twenty years he was on the staff of the Portsmouth Penitentiary and now holds the responsible position of Inspector of Penitentiaries.

Mrs. Hughes is as much a soldier as her devoted husband, having given willingly her husband and her son to the causes of Empire in its present great crisis.

Lt-Col Hughes is tall and well put together physically and it is no wonder that a man of his qualities held the mile championship for Canada against all comers for a number of years.

He is pleasant and affable in manner, cheerful in disposition, firm in his convictions, quick in apprehension, with a wonderful capacity for organization, and a perfect mastery of the most minute military detail

He is easily approached in his office by every man from senior Major to the latest private that has joined the ranks of his battalion.
On the left is William St Pierre Hughes at the age of 24, shortly after his return
from the North West Rebellion. On the right are his medals, as they are
displayed today.

Three generations of Hughes family medals, with WSP Hughes on top,
Laughlin Macleod Hughes in the middle and
William A Hughes bottom.

WSP Hughes' brother, Sir Sam Hughes, who was Minister of Militia
when World War 1 broke out

Above, L/Col Hughes is on parade on the Cricket Field in Kingston during the winter 1914/15. Below, a photo taken in 1930

The above photos are courtesy of Rear Admiral William A Hughes, CD, RCN (Ret'd)
Summary of Service Record
There are 2 pages of his file that have been damaged and could not be copied by Library and Archives Canada.
Jun 2, 1864

Born Darlington Township Ontario, Canada

Apr 24, 1885

In the North West Rebellion, he participated in action at Fish Creek, then at Batoche from May 9 to 12, and then in relief operations for Prince Albert and Battleford during June and July 1885 – awarded the Northwest Canada Medal (1885) with Saskatchewan Clasp

Oct 28, 1889

Appointed Lieutenant in the 14th Regiment, The Princess of Wales' Own Rifles

Mar 15, 1901

Promoted to Captain

Dec 1, 1909

Appointed Brigade-Major of the 7th Infantry Brigade

Jan 18, 1914

Promoted to Lieutenant Colonel in the 14th Regiment.

Oct 20, 1914

Placed on active duty with the rank of Lieutenant Colonel as Commanding Officer of the 21st Battalion

Nov 10, 1914

Attested into 21st Battalion as Lieutenant Colonel

- next of kin given as Mrs Jesse Williams Hughes (wife)

- occupation given as Inspector of Penitentiaries

- previous service given as "over 30 years in Canadian Militia"

May 6, 1915

Embarked the RMS Metagama at Montreal Quebec

May 15, 1915

Disembarked at Devonport England and proceeded to West Sandling Camp, near Hythe, Kent England

Sep 14, 1915

Embarked St Seiriol at Folkestone

Sep 15, 1915

Disembarked at Boulogne France

Jan 3, 1916

Proceeded on leave to England

Jan 13, 1916

Returned to duty from leave

Apr 3, 1916

Proceeded on leave

Apr 12, 1916

Returned to duty from leave
| | |
| --- | --- |
| May 23, 1916 | Granted temp substantive rank in the Overseas Military Forces of Canada of Brigadier General - London Gazette 30456 |
| Jul 14, 1916 | SOS 21st Battalion on transfer to 4th Division in England – appointment ante dated to May 23, 1916 |
| Jul 15, 1916 | To be temp Brig Gen while employed as GOC 10th Inf Bde |
| Jul 16, 1916 | Reported and assumed command of 10th Infantry Brigade – to be Temp Brig Gen while so employed |
| Aug 10, 1916 | Proceeded overseas - Embarked Southampton |
| Aug 11, 1916 | Disembarked Havre – Appointment to present rank antedated to May 23, 1916 as per London Gazette 29703 |
| Nov 15, 1916 | Mentioned in Despatches – London Gazette 2/1/17 |
| Dec 28, 1916 | Granted leave to Jan 7, 1917 |
| Jan 1, 1917 | Awarded DSO – London Gazette No 29886 |
| Jan 4, 1917 | Mentioned in Despatches London Gazette No 29890 |
| Jan 7, 1917 | Granted leave |
| Jan 18, 1917 | Ceases to command 10th Infantry Brigade and transferred to HQ Canadian Training Division on being ordered to report to Canadian HQ London - Granted leave to Feb 18, 1917 |
| Feb 18, 1917 | Granted leave |
| May 1, 1917 | Assumes temporary duty as GOC Canadian Troops Crowborough |
| Sep 1, 1917 | Attached to Canadian HQ, London |
| Apr 24, 1918 | SOS on return to Canada for disposal by Adjutant General |
| May 2, 1918 | Arrived at Halifax aboard the Mauritania |
| May 31, 1918 | Discharged from CEF and placed on the Reserve of Officers – resided at 155 Stuart St., Ottawa Ontario |
| Jun 1, 1940 | Deceased |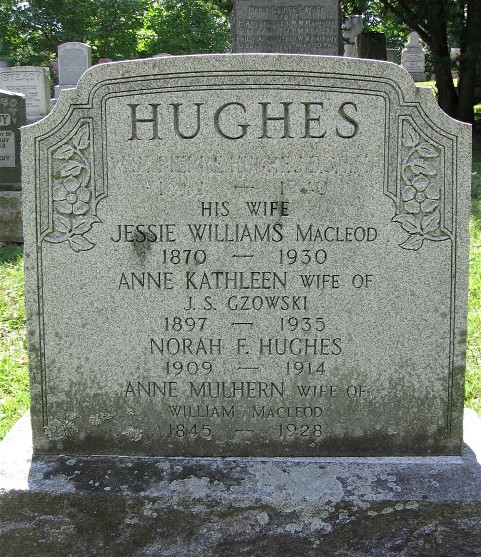 Inscription reads
"W. St. Pierre Hughes DSO VD
1861 - 1940"
Beechwood Cemetery
Ottawa ON