Below is a summary of RSM Jordan's service records as supplied by his daughter, Wilma. I want to thank her for allowing us to reproduce the photos she supplied as well as the photos I took in an interview with her at her home. I would also like to thank RSM Jordan's grandaughter, Barb and her husband David, for copying many of the documents for me.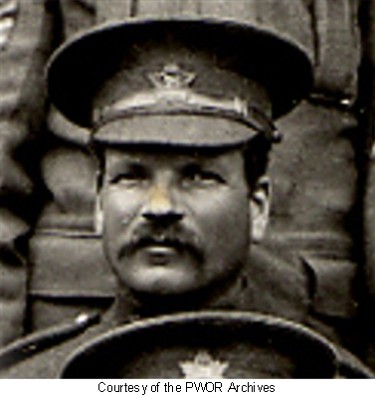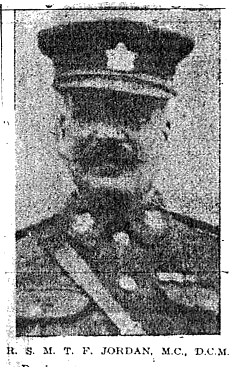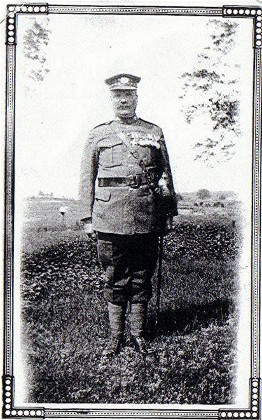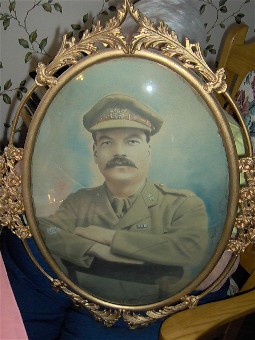 Summary of Service Record
Apr 11, 1879

Born at Norwich England

Jun 8, 1897

Attested into the 3rd Battalion, Rifle Brigade at Norwich England, No. 5220. His trade given as "Shoe Finisher"

Nov 7, 1904

As a corporal, his request to marry was denied as "No Vacancy". According to the explanation he gave to his family, you had to be able to have accommodations as a married couple and he was living in barracks at the time.

Dec 7, 1904

Second request to marry was again denied as "No Vacancy"

Dec 26, 1904

Married to Alice Louisa Clarke in St Mathews Church, Hamlet of Thorpe, in the city of Norwich. His father's profession was given as "Clogmaker."

Jun 30, 1907

Completed a course of Instruction in Cooking at Aldershot.

Jun 7, 1909

Discharged from the Rifle Brigade at Borden Camp. He participated in the South Africa Campaign 1902. Medal entitlement – Queen's South African Medal and clasps for CC, OFS, and 1902

Nov 12, 1914

Attested into 21st Battalion CEF

Ø No. 59530 (temporary number 140)

Ø Next of Kin given as wife, Alice Jordan at Bloomfield ON

Ø occupation given as farmer.

Ø Previous military experience given as "The Rifle Brigade, 12 years"

Ø Religion given as Church of England

May 6, 1915

Embarked the SS Metagama at Montreal

May 15, 1915

Arrived in England and proceeded to West Sandling Camp.

Jul 1, 1915

Confirmed rank of Sergt at West Sandling

Aug 16, 1915

Appointed Coy QMS at West Sandling Camp

Sep 14, 1915

Embarked for France at Folkestone

Jan 19, 1916

Promoted to WO 2nd Class and CSM

May 20, 1916

Promoted to WO 1st Class and RSM

May 28, 1916

Granted 9 days leave.

Feb 9, 1917 Awarded MC for distinguished service, London Gazette #29886

Aug 9, 1918

Wounded – gun-shot wound in right arm

Aug 12, 1918

Invalided & posted to EOR Depot

Aug 13, 1918

Admitted to Queen Mary Military Hospital, Whalley Lancs with a GSW right arm

Oct 17, 1918

Transferred to Ellerslie Auxiliary Hospital, Blackburn.

Nov 2, 1918

Transferred to Princess Patricia Canadian Red Cross Hospital (PPCRCH), Cooden Camp, Bexhill

Nov 15, 1918

Awarded the Distinguished Conduct Medal London Gazette #31011

Nov 22, 1918

Posted to 6th Reserve Battalion at Witley

Nov 22, 1918

Discharged from hospital as fit for duty

Dec 18, 1918

Posted to 21st Battalion from 6th Reserve Battalion

Jan 27, 1919

Had a stroke – ("This is to certify that No. 59530 RSM Jordan, TF, was seized with a very mild Paralytic Stroke on January 27th, 1919. He was unable to speak and had lost the power of the whole of his right side. He recovered sufficiently to be out and around but not to carry on arduous duties.") Signed by Capt Black, CAMC, MO, 21st Canadian Battalion. – the above is quoted from letter signed by above dated February 23rd, 1919 – returning from giving evidence in a Court Martial, he became paralyzed on the right side and dropped – not completely paralyzed, he was able to walk home – did not regain complete use of arm or leg for about 7 hours – was not evacuated

Apr 1, 1919

Medical exam at Witley – Hemiplegia slight (Jan 1919)

Apr 3, 1919

Proceeded to England from Le Havre

Apr 4, 1919

TOS CCC (Canadian Concentration Camp?) "P" Wing, Witley from 21st Battalion

May 13, 1919

SOS to Canada

May 14, 1919

Embarked SS Caronia at Liverpool for Canada

May 24, 1919

TOS #3DD Kingston

May 31, 1919

Discharged from 21st Battalion CEF - Discharged as "Medically unfit for general service" – SOS #3DD – Medical exam at Barriefield – some weakness right side

Dec 13, 1919

Attested at Kingston PWOR

Ø No 59530

Ø Next of Kin given as wife at 32 Plum street Kingston

Ø Trade given as blacksmith

Ø Papers signed by LCol HE Pense

Ø Posted to Casualty Coy and shown on command to 14th Regiment as paid Sgt Maj

Jun 30, 1920

Discharged from No. 3 District Depot

Ø Medically unfit for General Service

Ø Medical Board Report

o weakness in right arm and general weakness right side after any heavy work

o man well nourished

o scar right arm from bullet wound, some atrophy right shoulder

o no atrophy right leg

o heart and lungs normal

o was wounded at Battle of Amiens in August 1918 and had weakness in right arm ever since

o had slight stroke Jan 27, 1919 in Belgium, returning from giving evidence in a Court Martial

o became paralyzed right side and dropped

o not completely paralyzed, was able to walk home

o did not regain complete use of arm or leg for about 7 hours

o was not evacuated

Aug 21, 1932

Deceased and buried in the Belleville Cemetery, Belleville Ontario

Dec 27, 1932

Medals and Silver Cross sent to his widow, Mrs Alice Jordan, RR#7 Belleville Ont. – medals card stamped "Death attributed to military service."
Something that doesn't show up in his service record is the fact that he was very active with the Cadet program after the war. He helped groom many a young soldier in the Belleville area.