Frank's father was a clerk of Canada's Privy Council, his uncle D'Arcy McGee, a Father of Confederation. He was a member of the early Rough Rider's Football team, an oarsman for the Ottawa fours at the Canadian Henley Regatta on many occasions, and played hockey for Ottawa Silver Seven.
McGee, Frank Clarence, Lieutenant, was born on 4 Nov 1882 in Ottawa, ON. He was the son of John and Elizabeth, 185 Daly Ave., Ottawa, ON. He lost an eye on 21 Mar 1900 while playing in an exhibition hockey game in Hawkesbury, ON. The game was to raise money for Canada's part in the South African War. He played for the Ottawas hockey team in 1903 when they won the Stanley Cup. They were renamed the Ottawa Silver Seven and they again won in 1904 and 1905, but lost in the 1906 final. In the second game in 1905, against the Dawson City Nuggets, he scored 14 goals, a record which still stands. He also played lacrosse and football. He was an original inductee into the Hockey Hall of Fame in 1945. When he attested on 9 Nov 1914, he was working as a civil servant. He had served in the 43rd Regiment, Duke of Cornwall's Own Rifles, Canadian Militia, and was serving with the 21st Bn when he was killed in action on 16 Sep 1916, age 33. He is commemorated on the Vimy Memorial. He was survived by his parents, brothers D'Arcy, WR and JJ, and two sisters including Lillian. Another brother, Charles, was killed in action in May 1915. It is not known how he passed his army medical with only one eye.
The above contributed by Peter Gower
A detailed biography, The Killing of Frank McGee, is a must read. Notes on the writing of the book by Don Reddick, and ordering information are available at http://www.donreddick.com/companion.html (this link will open a new window)
His feats as a sportsman and his heroics in France are all the more amazing when you realize he was blinded in one eye in charity hockey game in 1900.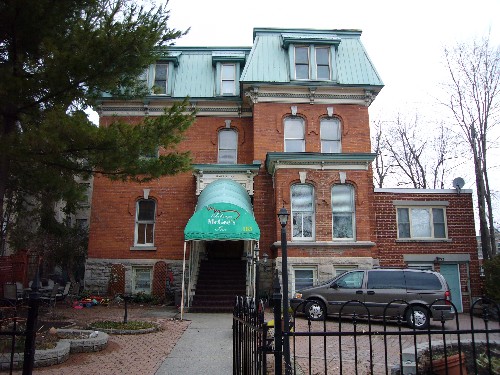 The home that Frank grew up in is currently (2008) being used as a Bed & Breakfast in Ottawa ON and is pictured above.
Nov 4, 1882

Born at Ottawa ON

Oct 22, 1914

Paid from this date with rank of Lieutenant with 43rd Regiment DCOR, Ottawa

Nov 9, 1914

Attested at Kingston – nok given as John McGee at 185 Daly Ave., Ottawa ON – occupation given as "civil servant" – Note on file at attestation reads "In case of casualty notify Darcy McGee, 12 Marlborough Ave Ottawa instead of next of kin, also notify Mrs Crowdy, Q7453 (no address given)

Nov 10, 1914

Transferred to CEF

Nov 11, 1914

Appointed temp Lieut with 21st Battalion at Kingston

May 5, 1915

Embarked with unit for England

Jun 5, 1915

Qualified with machine gun at Shorncliffe

Sep 14, 1915

Proceeded to France with 21st Battalion

Dec 15, 1915

"While in action and handling a gun in an armored car, which was blown up by the bursting of an HE shell into a ditch 6 feet deep, and into this he fell striking his right knee against some part of the car and received a small puncture wound of superficial tissues just inside the patella. Synovitis was caused by the blow, and the knee became much swollen."

Dec 19, 1915

Admitted to No 1 Red Cross Hosp, Le Toquet – knee injury

Dec 28, 1915

Admitted to Mrs Arnoldis hospital, London England – motor car blown up by HE shell and he was hurled into a deep ditch – injury to right knee

Jan 8, 1916

Attached to HQrs CTD, Shorncliffe from 39th Battalion

Jan 18, 1916

Medical board declared the wound completely healed and recommended one month's leave – Granted one week leave

Jan 20, 1916

Discharged from hospital

Feb 22, 1916

Declared unfit for any service for 3 weeks

Mar 10, 1916

Declared fit for general service

Mar 16, 1916

Proceeded to France to 21st Battalion

Mar 23, 1916

Declared unfit for any service for one month

Apr 1, 1916

Transferred to General List

Apr 4, 1916

TOS for temporary duty D of R & O in England

Apr 20, 1916

Fit service at home, unfit for Gen Service for 3 months

May 4, 1916

SOS Dept of R&D, Folkstone

May 10, 1916

Reported from Bath and proceeded to undecipherable

May 18, 1916

Ceased to be employed Dept of R&D

Jul 4, 1916

Attached to 39th Battalion

Aug 25, 1916

Arrived in France as part of reinforcement draft

Aug 29, 1916

Proceeded to 21st Battalion

Aug 31, 1916

TOS 21st Battalion from England as reinforcement

Sep 16, 1916

Reported from GHQ, "Killed in Action"


Because his body was never identified when buried, Lt FC McGee is commemorated on the Vimy Memorial in France


Photo on right was taken after the Memorial's restoration




May 22, 1920

Eligible 1914-15 Star – Medals and decorations to Lillian E McGee (sister), plaque and scroll to John J McGee (father), Cross of Sacrifice to Mrs Elizabeth McGee (mother), all of 185 Daly Ave., Ottawa ON.
2010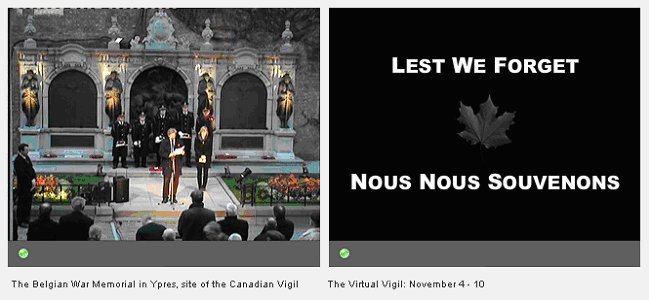 For the 7 nights leading up to November 11, 2010, the names of all Canadian soldiers were projected onto the Belgian War Memorial in Ypres. At the same time, the same names were being broadcast via the internet to schools across Belgium and Canada. The image above shows the opening ceremonies at the Belgian War Memorial on November 4, 2010.
Below on the left is the name of Frank McGee being projected on that wall. Below right shows the name being broadcast to the schools. Each name appeared for 25 seconds and each night 9,700 names were shown.