Thank you, Mr. Davidson. Good evening everyone. Thank you for allowing me the privilege to speak with you all this evening. I am truly honoured by this opportunity and am certain it will remain a valued memory in the hearts of my family members for years to come.
When I was sitting down to prepare this speech, I toyed with different topics, ideas, and feelings. I was stuck. I had no idea what to talk about! I longed for the perfect speech, one that would be as extraordinary as this opportunity that has been given to me. But after a couple failed attempts, I was ready to give up. Instead, I sought some words of encouragement and confided in a good friend, the frustration I was feeling. He quickly, without hesitation, reminded me that the most powerful words, are the words that come directly the heart; words that don't expect a specific reaction and have no other intention than the intention of authenticity. I went back to my draft and allowed my finger to shift to the backspace button, deleting everything I had written and re-starting from scratch. I found myself simply writing this story: the story of my journey to Menin Gate Memorial.
Strangely enough, my journey began here, in Carleton Place. Growing up in Carleton Place, I often struggled to find my place, as most kids do. But even though I had many friends, I felt different in that I always seemed to have a feeling in the pit of my stomach that there was something more out there for me. As I got older, that feeling my stomach grew and I struggled to find ways to satisfy it. I looked for opportunities everywhere but no matter what I did, that same feeling always seemed to come creeping back into my stomach. There had to be something more.
I began looking for bigger opportunities and found Neuchatel Junior College – a Canadian school in Switzerland. My excitement grew and that same feeling in my stomach grumbled louder. The thought of leaving my small town and breaking out into the world alone exhilarated me. After showing my parents the pamphlets and having many long conversations over the dinner table, a miracle, by my terms anyway, occurred: They said I could go. Suddenly, I could no longer control that feeling in the pit of my stomach, the one which I had been trying so hard to silence, and that was because, on September 4th, 2007, I was to leave for Switzerland.
The last couple weeks of summer, before I was set to depart, I began saying my goodbyes to friends and family. One of these goodbyes was to my grandfather – a sweet, kind man who wears his emotions– including his love for me – on his sleeve, for everyone to see. He approached me and gave me a cheque, asking me to visit Menin Gate Memorial, however I could; he asked me to find his Uncle (and name-sake's) name on the walls. With an open heart, my Grampa confessed that he was saddened that he would not make it there in his lifetime but that he would be forever proud to have a Miller visit this memorial. And there it was, my goal for the year, staring me straight in the face. I took it as a personal challenge to find my Great Great Uncle John, for my Grampa's sake.
As soon as I was overseas, and settled into my new home, I began my search. With the help of a faculty member – to whom I owe the greatest thanks – I began contacting the Canadian government and the War Museum in Ottawa. I wrote letters and emails to anyone and everyone who would listen and who said they could help me in my search, all the while keeping the image of my Grampa in the back of my mind.
After some time, I was able to find his attestation papers. These papers allowed me to learn that my Great Great Uncle was from Northwood, Scotland and his mother, Elizabeth Miller, lived in Belleville, Ontario at the time. He worked as a brass-polisher and his birthday was March 10, 1894 making him twenty-years old when he joined the army – only three years older than myself at the time (two years presently). The medical section of these papers showed me that he was five foot, ten inches with blue eyes and brown hair. He was Presbyterian and had tattoos around each forearm. These papers gave me a face to the name, a visual image of this person I so desperately wanted to find. It made him feel more real to me, but I still felt unaffected, merely excited at the prospect of fulfilling my promise to my Grampa.
I began planning my actual trip to Menin Gate, and every other memorial or cemetery I could. By some gift of fate, it seemed that I would be able to plan this trip around November 11th. I was in awe of how quickly the steps of my journey had come together. I contacted officials within the Menin Gate community and told them of my plans to visit the memorial, asking them for help locating my Great Great Uncle's name. T hey contacted me back not shortly after and told me "Bay 26, Panel 10", wishing me luck and asking me to contact them after my trip. I remember reading this email, reading their words and sitting back into my chair. I could not believe my luck.
On November 11th, 2007, I arrived at Menin Gate with my internet printout map of the large memorial ready to search. Immediately, I was overwhelmed. Surrounded by wall after wall of names, I worried that after all my preparation, I may not be able to find his name. I knew it was special just to be there, but I really wanted to be able to find his name for my Grampa to see. I searched and searched, and finally, found him. Miller J, 21st Battalion. He was right there, right at eye level. The magnitude of the situation finally hit me; I could no longer hold it back. I began to cry, not caring which one of my peers was close enough to see my tears. I was filled with tremendous, overpowering emotion that seemed to consume me.
Suddenly, I felt a soft hand grasp my own, expecting a friend, or even one of the school teachers that was accompanying us on this trip. I slowly looked up and was shocked to see the face of a complete stranger; it was an older British man. His eyes were full of tears and it seemed to me, before he even spoke, that he understood the emotion I was feeling. He did not introduce himself, nor did he ask me for my name. He simply asked me who it was and I told him, my Great Great Uncle John. He smiled back at me, his hand still holding mine and placed three poppies at the base of the wall at which we were standing – the wall which held my Great Great Uncle's name. In that moment, I felt compassion. I felt instantly connected to this man in a way in which I had never felt connection before. I knew without asking, that he too had family honoured on this memorial. This man will never know the effect his simple gesture of kindness had on me and on my life. I will forever remember this moment as the moment I finally understood humanity.
When I returned back to the hotel later that night, I could not hold all the emotion I had inside. It seemed to be spilling out of every inch of me, consuming all of my thoughts. I felt compelled to write something down so I would never forget how that moment, made me feel. I began writing a letter to my Great Great Uncle, which I will read to you now.
"I came to see you the other day. It felt weird. I've seen pictures and heard my grandpa tell stories about you, but to be honest, you weren't real. I didn't really care. So many times I watched Grandpa get emotional thinking and remembering you and I can tell you that I never once blinked an eye. How could I? I didn't know you. You didn't seem real to me.
I knew how much it meat to Grampa for me to find you. He told me that he would never be as full of pride, that he wound be forever proud that a Miller visited your grave. To me, finding you was not a personal goal, it was just something nice to do for my grampa.
And on that day, Nov 11, I looked for you. I looked for you among your thousands of comrades. I was beginning to feel overwhelmed. How could I ever find you on these walls full of names? Where could you be? Grandpa's words were ringing in my ears. "so proud" over and over. "So proud". Would I be able to do this for him? I hoped so.
I kept walking, reading the many names and following the map I had found on the Internet and printed out. Bay 26, panel 10. Where are you?
I walked up the staircase and there you were. Suddenly, Grandpa was no longer on my mind. It was just you and me. I stood there and looked at you, a man I had never met and I cried. I cried for you and for all your comrades. I cried for your life and for your courage. I cried in thanks and I cried in love. It had never once crossed my mind until that moment that you are my blood. You are family. I was ashamed of my ignorance and I was sorry for my selfishness.
"So proud. So proud" You were right, Grampa. Never have I been so proud"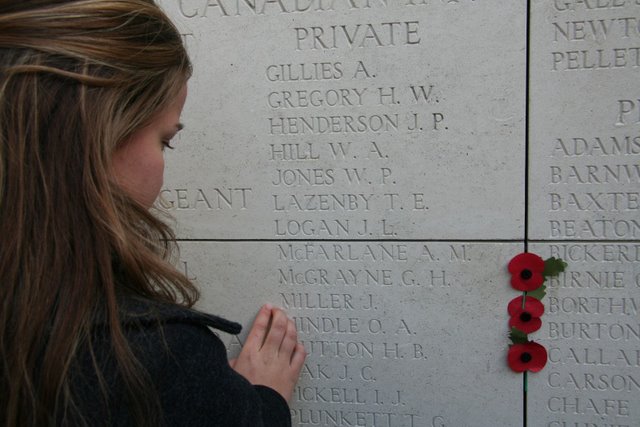 My journey to Menin Gate was not as I expected. Although I was infinitely proud to be able to do this for my Grampa, I became distinctly aware of a new feeling inside of myself. That feeling, was my own pride.
Like many teenagers, I have read the stories in the papers about youth apathy or, about the general population of people who no longer understand the value of Remembrance Day and I can honestly say, that although I believed myself to be different from the majority, I could not hide my ignorance.
I am immensely fortunate to have been given the opportunity to have this journey and wish, from the bottom of my heart, that each and every person could have a moment as I have had, a moment of realization, creating a new, personal sense of pride. Be it at the Menin Gate Memorial holding the hand of a stranger, here in Canada, or wherever else, I vow to encourage the pursuit of this life-changing moment in every single person because it is in the moment that I believe the true essence of Remembrance Day can be found and that is pride.
Not only is this a day to remember our past, to be proud of our soldiers and commemorate those lost, but it is a day to look forward and give thanks to the soldiers of today. These men and women, just like those of our past, are fathers, mothers, sons, daughters, friends, grandparents, and even…Great Great Uncles.
Thank you very much for allowing me to share my story with you this evening and I hope my presentation has inspired you to begin your journey towards your moment of realization. I hope I was able to cause you to feel, even the slightest bit like I did that day when I saw his name.
Thank you.
© 2009 Heather Miller
What follows is research from his military service file completed by Al Lloyd