MBE, BWM, VM, CVSM, 1939-45 War Medal, LSGC (Army)
Introduction
Ernest Frederick "Tug" Wilson enlisted in the 253rd Battalion of the CEF on 1 Nov 1916, Regimental number: 1090001. He reported prior service with the 14th Regiment, Princess of Wales Own Regiment, in Kinston Ontario. During the First World War he served with the 253rd in Canada, and eventually served in France with the 21st Battalion, CEF. Wilson re-enlisted in the Canadian Machine Gun Corps after his CEF demobilization in 1920. He transferred to The RCR in 1922 and remained with the Regiment until retiring in 1946. Commissioned at the start of the Second World War, Wilson served throughout the War in London, Ontario, retiring as a Major having been awarded the MBE for his accomplishments.
(Wilson's nickname "Tug" Wilson was received from a fellow regimental officer who served at Wolseley barracks and overseas during the Second World War.)
EF Wilson Family
Ernest Frederick Wilson was born on 21 Oct 1891 at Perth, Ontario.
He married Wife - Gertrude Catherine (nee) Levesque at Kingston, Ontario, on 7 January 1914. Ernest and Gertrude would have four daughters, one born before the First World War and the three younger girls born between 1922 and 1927. The Wilson daughters were Katherine Jean (b. 12 Dec 1916; Kingston, Ontario), Frances Gertrude (b. 4 Jul 1922; Kingston, Ontario), Marian Elsie (b. 17 Jul 1924; London, Ontario) and Margaret Ernestine (b. 1 Mar 1927; London, Ontario). No doubt Wilson had some concerns raising four girls within sight (at one home), or within walking distance, of the barracks in London, Ontario where he would be stationed for most of his Permanent Force service.
Gertrude Wilson died at London on 28 Oct 1945. Wilson was not a widower for long marrying remarried Margaret Laura (nee) Newman, at Walkerville, Ont., on 14 Aug 1946.
EF Wilson Prior Service
Before attesting for the CEF, Ernest Frederick Wilson served for 26 months with the 14th PWOR Regiment Guard (14th Regiment, Princess of Wales Own Regiment), which was formed by the regiment for home service. The 14th Bn. P.W.O.R. provided a guard at Fort Henry (Kingston, Ontario) for prisoners of war during the First World War. Wilson's dates of service with the PWOR were 27 Aug 1914 to 26 Oct 1916.
CEF Service
Ernest Frederick Wilson enlisted in the 253rd Battalion of the CEF on 1 Nov 1916. The terms of service for his enlistment are recorded in is file as "duration of war plus six months." In his attestation document, he is described as: age 25 years, 1 months; height 5 ft 7 in; weight 136 lbs; girth 36 in; and physical development good.
At his attestation for CEF service, Ernest Frederick Wilson declared himself to be married. His wife was Gertrude Catherine Wilson, residing at 232 Earl St, Kingston, Ontario. Wilson was living at the same Kingston address in 1920 when he attested for the Permanent Force of Canada.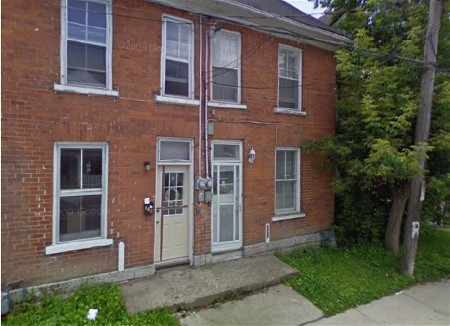 House Wilson lived in Kingston at attestation in 1916. - 232 Earl St., Kingston, ON
During the First World War Wilson served in Canada (27 Aug 1916 to 29 Apr 1917), England (30 Apr 1917 to 29 Mar 1918), France (30 Mar 1918 to 31 Aug 1918), England (1 Sep 1918 to 9 Jan 1919), and finally back in Canada (10 Jan 1919 to 30 Jun 1919). His total CEF service would be 3 years, 247 days.
Ernest Wilson sailed from Halifax aboard the S.S. OLYMPIC on 29 April 1917, bound for the War in France. He arrived in England on 7 May 1917 and was taken on strength the 5th Canadian Reserve Battalion at West Sandling where he was appointed to the position of Acting Pay Sergeant on the 12th of the same month.
On 6 June 1917, Wilson was transferred to the 164th Canadian Battalion, from where he was attached to the 125th Battalion on 9 March 1918. He ceased that attachment on 29 March, reverting to the 164th Battalion from which he was then transferred to the 21st Canadian Infantry Battalion on 30 March 1918.
Wilson arrived at the Canadian Corps Reinforcement camp on 4 April 1918 en route to his unit and on the 15th of April he finally joined the Battalion in the field.
On 29 August 1918, Wilson was wounded, suffering gun shot wounds of the left hand and right leg. He was evacuated to No. 26 General Hospital Etaples. He was subsequently transferred to 2nd W.G. Manchester and then the Military Convalescent hospital in Epsom from which he was discharged on 28 October 1918.
While invalided in hospital, Wilson was posted from the 21st Battalion to the Eastern Ontario Regimental Depot, Seaford at the time of his admission to the 2nd W.G. Hosp Manchester.
Wilson's wounding was reported in his hometown newsaper at Kingston, Ontario:
Kingston Daily Standard September 7, 1918
Sergt. Ernest Wilson.
Mrs. Ernest Wilson, 232 Earl Street, received official notification this morning that her husband, Sergt. Ernest F. Wilson, who left here with the 253rd Battalion on April 24th, 1917, and who has since seen much, service in the front trenches, was severely wounded on August 29th by shrapnel in the left hand and right leg. He is at present in hospital in France.
Sergt. Wilson is well known in the city and his many friends will regret to hear that he has been temporarily incapacitated from duty. While here he had risen to the rank of sergeant major in the 253rd, and after going to England he reverted to private to go to France. There he soon won the rank of sergeant by his good work as a soldier.
On discharge from hospital, Wilson was attached "on Command" to the 1st Canadian Convalescent Depot at Seaford. Two weeks later, on 14 November 1918, he was posted to the 6th Reserve Battalion. He was subsequently attached to the No. 3 Military District Convalescent Wing from which he was sent On Command to Kimnel Park on 11 December 1918 awaiting despatch to Canada. He was struck off the strength of the 6th Reserve Battalion on 9 January 1919 and taken on strength of the Casualty Company No. 3 District Depot (Kingston, Ontario) "for disposal." Wilson was then S.O.S. to the No. 3 Detachment Canadian Army Pay Corps on 19 February 1919 where he worked until being released on demobilization on 30 June 1920.
No. 1090001 (Rank) Sergeant Wilson, Ernest Frederick, was discharged from the C.E.F. on 30 June 1920 in Military District No. 3 at Kingston, Ontario. He was described on discharge as age 28 years, 8 months; height 5 ft 7 in, complexion dark, eyes blue, hair brown.
Post-War Service
On 1 Jul 1920 Ernest Wilson enlisted in the Permanent Force of Canada with the Canadian Permanent Machine Gun Brigade. He was assigned regimental number 401000 and posted to the C.P.M.G. Bde HQ as an Acting Corporal (with pay and Allowances). Wilson was also placed on the Married Roll. On the same date he was appointed Orderly Room Clerk (O.R.C.) and promoted to substantive rank of Corporal O.R.C.
On 1 Jul 1922 Wilson re-engaged for a further three years service in The C.P.M.G. Brigade or "for General Service" while in the training camp at Camp Niagara, Ontario. Later that year, on 22 September he transferred to The Royal Canadian Regiment (The RCR).
On 23 September 1922, Ernest Wilson was taken on strength "B" Company, The R.C.R. at Toronto, Ontario, and allotted Regimental Number P.F. 16114. He was also promoted Sergeant O.R.C. at this time.
Wilson was authorized to draw pay as a Sergeant O.R.C. of Group "B" on 1 April 1923. On 5 November of that year he was transferred to Headquarters The R.C.R, at Wolseley Barracks in London, Ontario. In the late summer of the following year, on 1 August 1924, Wilson was graded for Trademens' Pay "Clerk" under provisions of G.O. 89/1924. For this achievement he received an additional .25 cents per diem. He again advanced from 5th to 6th Rate Tradesmens', Specialists' and Clerical Pay on 1 April 1925.
On 1 July 1925, Wilson's term of service was again up and he subsequently re-engaged once more. This time he did so while deployed with the Regiment to New Waterford, Nova Scotia. The regimental historian describes this deployment as follows:
"In 1925, all companies had again proceeded to Nova Scotia and for two summer months supplied aid to the Civil Power during a strike in the coal mines, returning to their stations when the trouble ended." (pp. 400 - The Royal Canadian Regiment 1883-1933, by R.C. Fetherstonhaugh, 1936)
(New Waterford is a coal-mining town on the island of Cape Breton, Nova Scotia. I was posted to Sydney, Cape Breton, in 1986 and met people who still maintained heartfelt family stories of feelings of animosity towards The Royal Canadian Regiment for the regiment's performance of strike duties in the area in the 1920s and 1930s. – M.M. O'Leary)
Wilson was promoted to Acting Staff-Sergeant (O.R.C.) with pay on 23 September 1925. Then in 1928, on 1 October, he was promoted Warrant Officer Class II and appointed Quartermaster - Sergeant Orderly Room Clerk. In 1931 Wilson completed his 1st Class Army Certificate of Education (equivalent).
Wilson's long service was recognized in 1933 with the award of the Canadian Medal for Long Service and Good Conduct. General Order 117; 9 Dec 1933 read "Awarded the Canadian Medal for Long Service and Good Conduct (Military) under the provisions of the Royal Warrant dated the 23rd September, 1930, and General Order No. 1 of 1932. - 16114 Staff-Sergt E.F. Wilson; R.C.R."
Staff-Sergt. Wilson is noted in the regimental journal The Connecting File (Vol. XV, No. 1, February 1936) as the Treasurer for the Central Branch of the Old Comrades Association, The RCR.
Second World War
On 1 Sep 1939 Wilson would re-attest for service with The R.C.R., Canadian Active Service Force. His active army service commenced 1 Sep 1939, with a new regimental number of P-16114 and the rank of Staff-Sergeant. He completed a Medical Board on 5 September 1939 and was awarded a medical category of "D".
On enlistment for active service in 1939 the Wilsons resided at 652 Piccadilly St, London, Ontario. During the War they would move to 729 Waterloo St, London, Ont. (from 19 Oct 1942) and 459 Central Avenue, London, Ontario (on discharge). All addresses are within a short walking distance of Wolseley Barracks. Notably, he would have a telephone installed in his Waterloo Street house; Tel. no. 8830 M.
Staff-Sergeant Wilson did not remain long in the NCO's Mess after the start of the war. On the 1st day of October 1939, he was "appointed to Commissioned Rank in the Canadian Army (Active)". His service record notes: "To be Temporary Lieutenant and to be Quartermaster Regimental Depot R.C.R., C.A.S.F.; Rank Temporary/Lieutenant, effective 1 Oct 1939" (Authority Pt II Order 111, 22 Oct 1939). Wilson would be employed 1939-46 as Depot Quartermaster, Permanent Force Records Officer and Officer in charge of personnel going through District Depot at London.
In 1940, Wilson could be found in the Gradation List of Officers of the Canadian Army Active. His date of rank (Quartermaster) was 16 Aug 1940, and his appointment was described as "To be Captain (Quartermaster) with No. 1 District Depot". On 31 August 1940, Captain Wilson was struck off strength The RCR Depot on transfer to No. 1 District Depot, London, Ontario.
On 1 April 1941 Wilson qualified for the award of the Canadian Volunteer Service Medal and under the provisions of CARO 3929 was entitled to wear the ribbon.
Mrs Wilson was also active in regimental life at Wolseley Barracks:
WELFARE AND EDUCATION - Because of the peacetime dispersal of The Regiment over four garrison centres it did not enjoy the same whole-hearted community support as many Militia regiments on active service. However, in London a strong Women's Auxiliary had undertaken the administration of welfare and comforts activities. In 1941 Mrs William Neilsen headed this body, with Mrs E.A Seely-Smith, Mrs H.V. Bonnar, Mrs E.F. Wilson, Mrs W.W. Mathers, Mrs J. Proderick, Mrs S. Lerner, Mrs R.E. Hughes, Mrs I. Carling, and Mrs C.A. Stillwell as her principal helpers. They enlisted the aid of many extraneous organizations, in July 1941, for instance, The Regiment received a total of 42,000 cigarettes, in part from a Regimental dance club, in part from the Toronto Hotel Soldiers Fund. (The Royal Canadian Regiment, Vol Two; 1933-1966, by G.R. Stevens (1967) (pp. 43-44)
In 1943 Captain (Quartermaster) Ernest Frederick Wilson was made a Member of the Order of the British Empire (MBE) in the Birthday Honours list of 1943. This award was recorded in the Canada Gazette dated 5 June 1943; and confirmed by CARO/3480 dated 2 September 1943. His citation reads:
"During the present war this officer has rendered exceptionally meritorious service and his services have been of inestimable value to No. 1 District depot. His responsibilities in handling thousands of dollars in stores, equipment and rations each month are enormous. His outstanding ability in accounting, initiative, energy, and loyal devotion to duty have brought the Quartermaster's Stores to a high state of efficiency. During the present war many thousands of officers and men have been clothed and equipped and his cheerfully willingness to carry out his long hours of duty under strain and with clear thought have made it feasible for the depot to meet obligations with the department. He has foregone all leave during the present war to cope with the situation. To sum up briefly, the officer's leadership has made the personnel employed in the Quartermaster's Stores function with precision. His stores are a model and there have been no deficiencies during the war - a remarkable achievement." - London Gazette Issue 36034 dates Wed 2 Jun 1943, published on the 28 May 1943. Page 3 of 14
The second volume of the regimental history of The RCR (The Royal Canadian Regiment, Volume Two; 1933-1966, by G.R. Stevens (1967)) lists ten members of the Regiment receiving this award during the period it covers.
On 11 June 1944 Captain Wilson vacated the appointment of Quartermaster and was appointed Officer in Charge of the Permanent Force Wing of The R.C.R. Depot. A few months later, on 23 August 1945 he was promoted to Acting Major (Authority Pt II Order 50/1945 RCR Depot). Early the following year, on 11 March 1946, Wilson was promoted to the substantive rank of Major " (Authority Pt II Order #17/1946 RCR Depot).
During the Second World War, Wilson also remained active in Regimental affairs. The Royal Canadian Regiment, Volume Two; 1933-1966, by G.R. Stevens (1967), records: "...the cheerful news that the finances of The Regiment, under the careful administration of Major F.G.W. Pennell and Capt E.F. Wilson, had flourished during the war; by shrewd investment the capital value of its non-public funds had more than doubled." (pp. 200 (1945/46))
With the War over, the Canadian Army started to reduce its strength to a much smaller Permanent Force establishment. At this time, serving soldiers were choosing between release, retirement to pension or pursuing one of the few positions that would be available after the war. Major Wilson decided at this time that retirement to pension was his preferred course, and after rehabilitation leave from 24 June to 29 September 1946 he was "Struck off Strength and Retired to Pension" and awarded a War Service Badge.
The Certificate of Discharge on No. P.16114 Major CA (A); S/Sgt (PF) Ernest Frederick Wilson, MBE; The Royal Canadian Regiment is included in his file. Wilson originally attested at Kingston, Ontario, on the 1st July 1920 for the Canadian Permanent Machine Gun Corps at the age of 28 8/12 years. At his retirement, he was described as:- Age 54; years; height 5 feet 7 inches, complexion dark; eyes hazel; hair black; trade clerk.
Wilson's total service on his "present enlistment, Permanent Force" was 26 years 91 days. He was discharged on 29 September 1946 in consequence of - KR (CAN) 372 (xvi); "His services no longer required."
Major Wilson was recorded as having the following special qualifications for employment in civil life, vide K.R. (Can.) 383 and 384: Accountant - Military Messes and Canteens, Quartermaster - Military Stores and Accounting, Records - Military documentation and files.
In his declaration to the Department of Veteran's Affairs, on his "Dischargee's own Statement of future plans", Wilson stated simply: "I intend to retire."
Wilson's address on discharge was 459 Central Avenue, London, Ontario.
Ernest Frederick Wilson died at London, Ontario, on 30 Nov 1948.
Research, medals photo and narrative, written by Capt. Michael O'Leary, CD The RCR